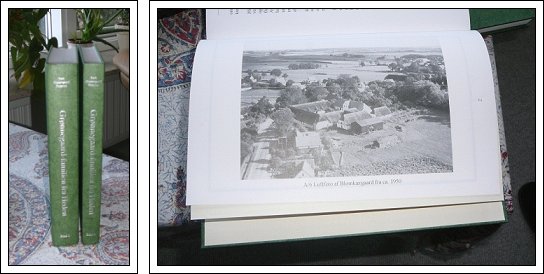 The two books are in hardback and illustrated with many unique family photos.
Family chronicle in two volumes
The Grønnegaard family from Heden
Produces by Niels Grønnegaard Pedersen
---
Volume 1 contains all the data concerning individual people. The material is organised around sibling lists - starting with my own, followed by my father's and my mother's etc.
Volume 2 consist of biographies of some of these people. Some of them were written by me and others I compiled from the information I could obtain.
My husband Niels Grønnegaard Pedersen died on the 4th December 2012. The books can still be bought for 250 kr. + postage by contacting Anne Marie Grønnegaard.
E-mail: amgp37@gmail.com. Tel.: +45 64 72 21 31.
PS. Do you happen to have a family connection to Fanø? Then have a look at
---
Updated 8th March 2016. Graphic design: Per Hofman Hansen.